Meeting Point:
Tropical Main Pool
Cofresi Beach Area
All activities depend on weather conditions and the number of participants.
Locations and hours subject to change without previous notice.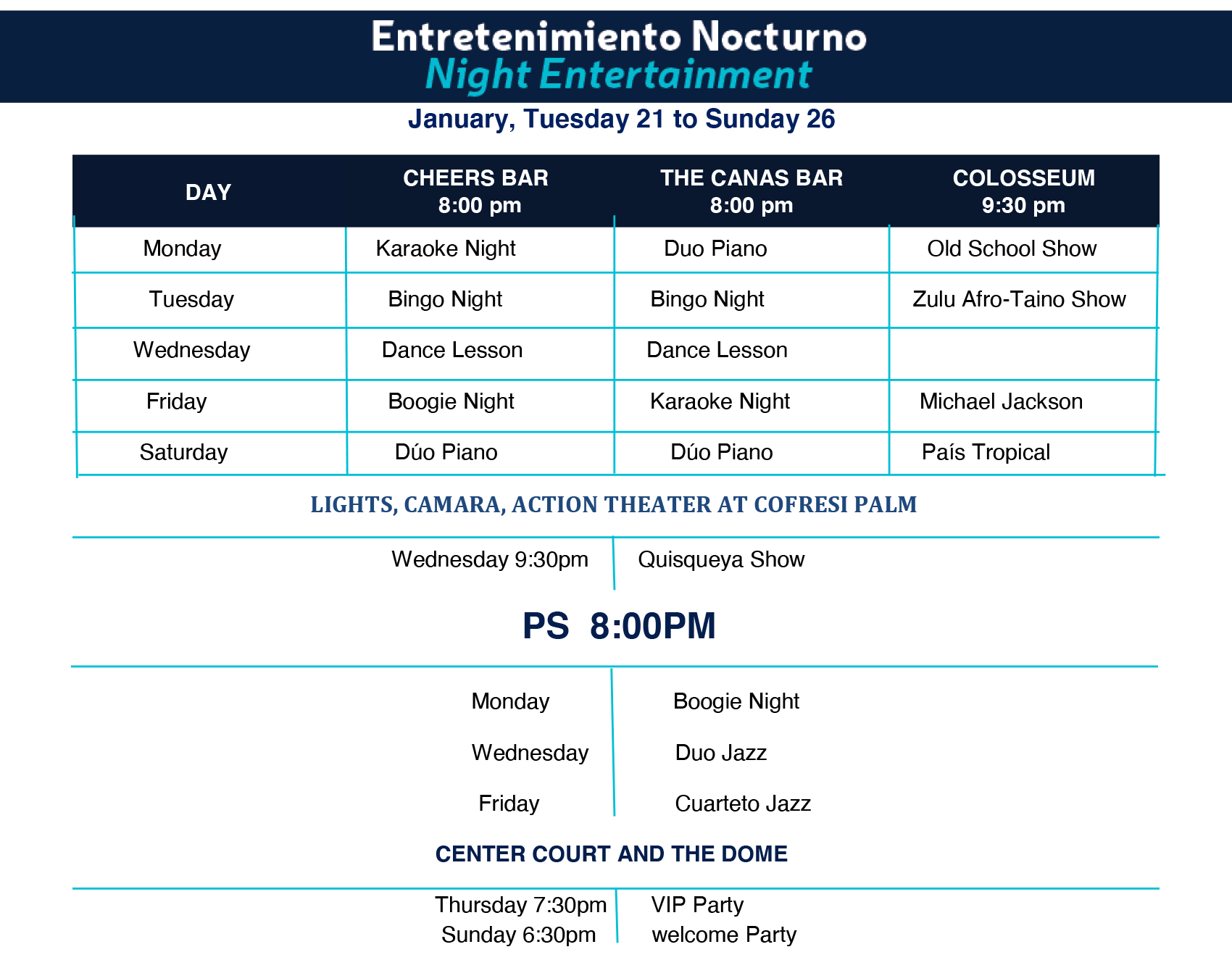 Tennis Court
Open every day from 7:00 a.m. – 12:00 p.m. and 3:00 p.m. – 8:00 p.m.
Free Tennis Lessons for Beginners!
Tuesdays and Thursdays at 10:00 a.m.
Pickleball Court
Every day from 7:00 a.m. – 12:00 p.m. and 3:00 p.m. – 6:00 p.m.
Kids Club
Open every day from 9:00 a.m. – till 12:00 p.m.
and 2:00 p.m. – 5:00 p.m. –  located at Cofresi Palm
Some activities subject to change.
New!
Trikke city tour adventure: Enjoy this panora_mic audio guided tour where fun meets culture with eco-friendly responsibility. Our team has designed a route where you will appreciate the town's culture, colors, and flavors while driving these electric scooters called Trikke. Guided by local staff will take you to the must-see spots in the town of Puerto Plata. You will be able to listen to the tour leader who will explain everything about the town's history, traditions, and natural heritage.
Blue Lagoon is the highlight of this tour; a freshwater natural swimming pool surrounded by limestone rocks. We will also enjoy Playa Grande, voted as one of the 10 best beaches in the world by Condé Nast travel magazine. Then relax at Playa Caleton and do a river cruise on the Laguna Gri Gri.
Logo shop/Excursion Center
In front of the Sports Bar at the VIP Area – Ext #77776
Tropical Excursion Center
In between Casablanca and the lobby – Ext #70059
Presidential Suites Excursion Center at the lobby – Ext #60010
Cofresi Palm Excursion Center at the lobby – Ext# 35075
If you're not staying in Cofresi Palm – please dial 39-35075
Crown & Residence Suites Excursion Center at the lobby – Ext#27005